Obviously, I do have a thing with Midi controllers. This is the better part of the ones I used over the course of the last ~15 years. Each of them has a story to tell.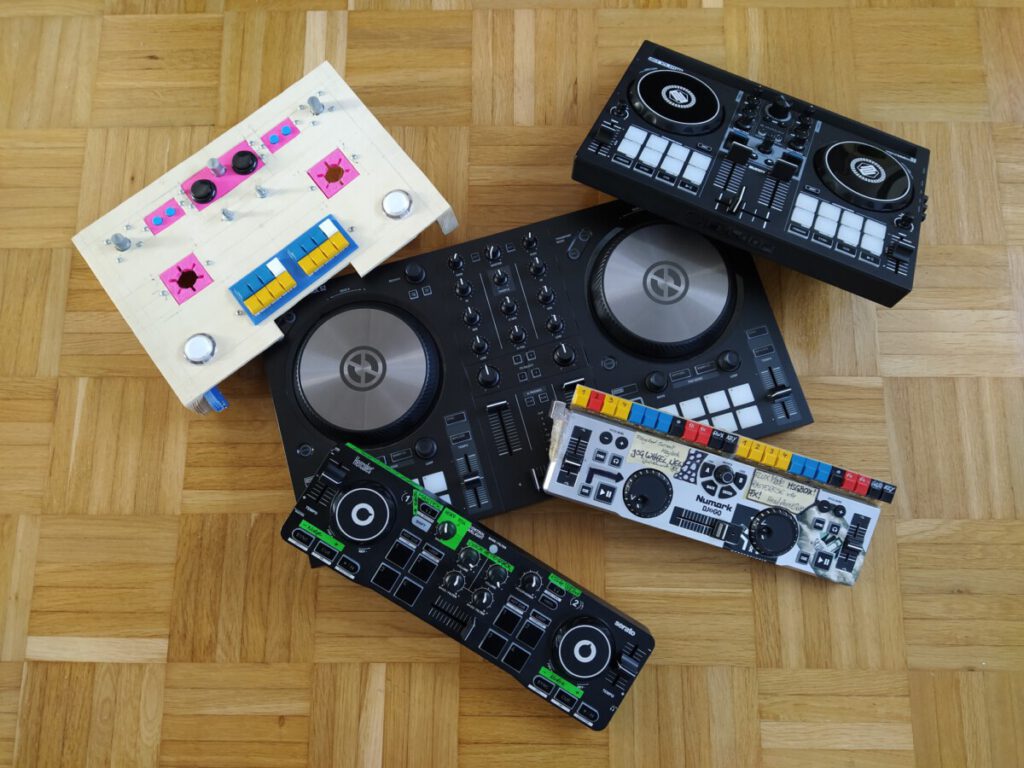 Rewind back to the year 2006 when I had a reasonable tax refund and bought my first digital vinyl system: M-Audio Torq – just because I wanted to analyse how all of this was working and what could be done with it. And maybe because I wanted to find out if DJ'ing was something I could sensibly spend my time with. Didn't take long for my to find out that using the mouse and keyboard just didn't cut it. As I already stated on numerous other occasions it just looks (and feels) like you are checking mails while playing music. The first few gigs I used a Behringer BCR2000.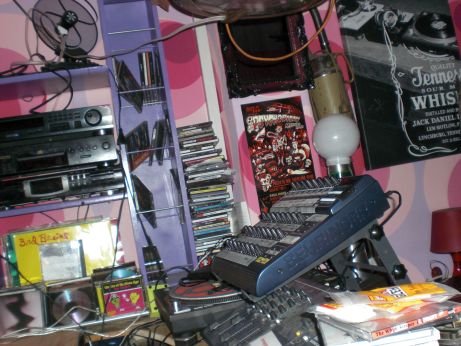 It took my some time (well, … too long, to be honest) to realize that there was room for improvement. That's why I built the first controller.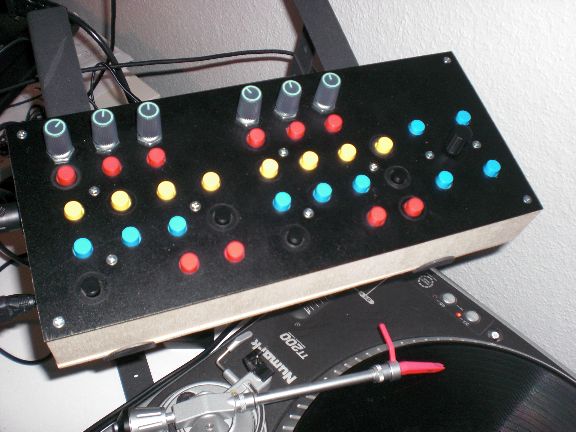 Read more about it in this previous post from long ago. Based on an Arduino this thing had some pretty cool features: Track select and load for deck A and B, Fx-buttons with dry/wet knob, cue select, loop mode and quickscratch-select. That was the perfect controller in conjunction with a pair of turntables. However, it also had its downsides: The case was too big, the metal cover had some pretty nasty edges and it basically couldn't be used without turntables. My primary goal for DJ'ing (ore as I say: playing music in bars) was/ is to have a setup as portable and lightweight as possible. That's why I switched to another software (Traktor) and another controller: Numark DJ2Go.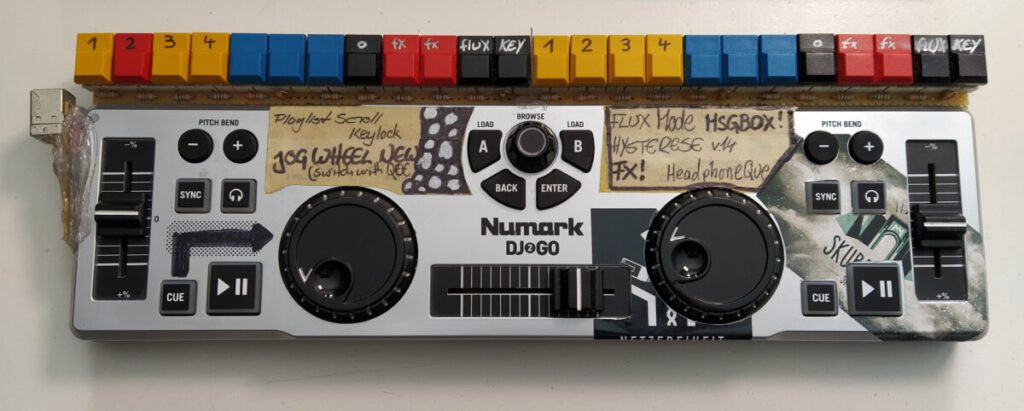 Near mint condition, as I would say. Read more about it here where I describe how to add 24 buttons. This thing ruled. I definitely had some of the best parties with this little beast. Buggy as hell, flaky and basically totally unusable but tons of fun. In times like these when everybody is a DJ it's hard to seperate from others. Everyone nowadays has a shiny, blinky, expensive controller and people (even patrons of the events where you are playing music) start recognizing your gear. But none of this matters when you show up with a beaten-up frankenstein-like piece of plastic like this. Instant gratification (or compassion, whatever you like). The way I used this controller obviously didn't work out out of the box: I put a lot of work into a heavily customized Midi mapping and some Applescript for debouncing and mapping the buttons. Man, that was fun.
However, the jogwheels were missing touch-functionality and that was something I needed (or at least that's what I thought). Not wanting to sacrifice the ultra-portable aspect I switched to another Controller: Hercules starlight.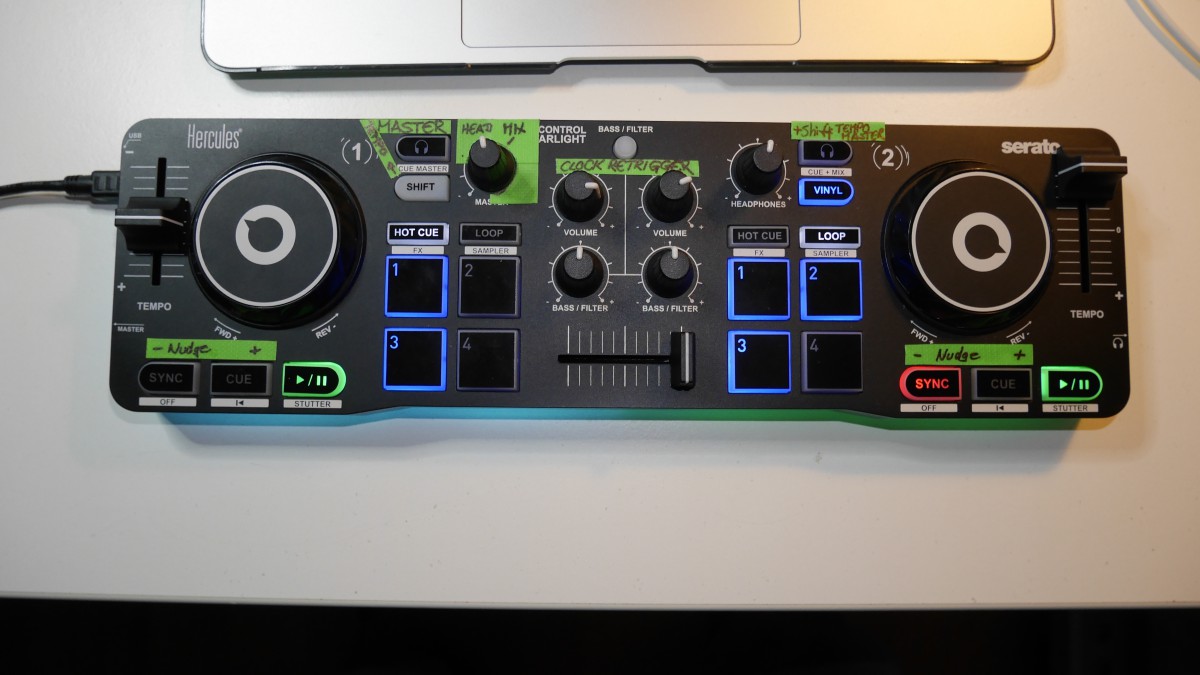 The device offers touch-sensitive jogwheels and the formfactor is nearly identical to the Numark DJ2Go. I realized too late that the controller was missing an easy way to browse through playlists and quickly load tracks to one of the decks (yeah, because I'm stupid sometimes). With 4 (instead of 12) buttons per deck it takes some heavily customized midimapping for the device but I have it running for ~2 years now and it works like a charm. Still adding new functionality every now and then. As time of this writing I can switch between playlists, browse through playlists, load tracks into a deck, set and select cuepoints and loops, nudge and scratch all via the controller. Read more about it here. This is still my controller for when I want to prepare a lot of new tracks at once. If there were any gigs right now (it's the great global pandemic sh*tshow we are facing at the beginning of 2021) I would still use this one for sure.
At some point in early 2020 the 'el cheapo' approach didn't really cut it for me any more. After all I'm a grown up adult and I can get myself any kind of controller I want, right? Yeah, probably. So I bought a Native Instruments Kontrol S2 MK3 together with a shiny new version of Traktor. Wasn't the worst deal in history. Since it's all Native Instruments the controller ('Kontroller') basically works out of the box, of course. However, there are certain aspects I want my DJ-Setup to behave like that are obviously not that common and it took me some time to get it all set up.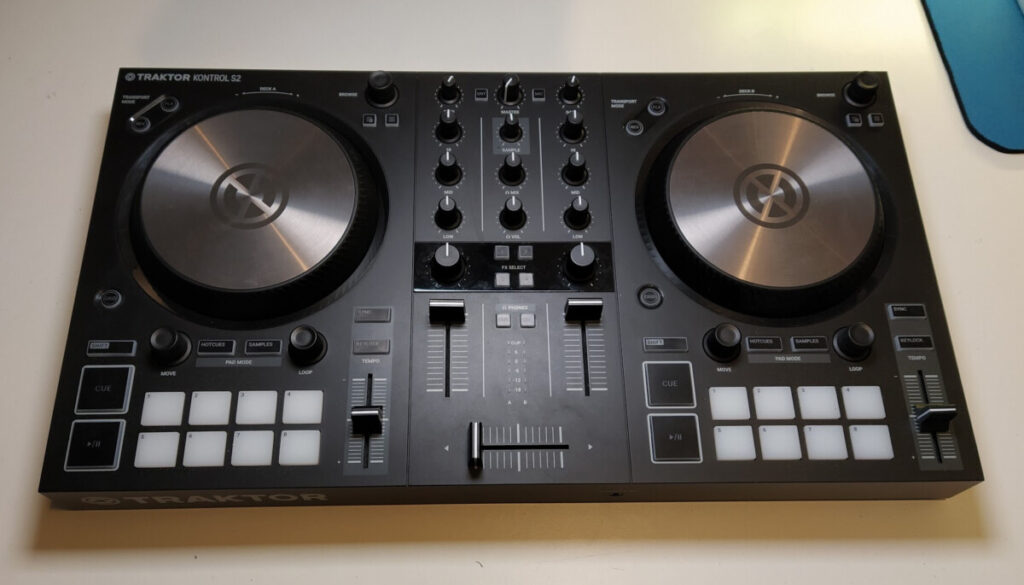 As an example: I heavily rely on prepared cuepoints in all of my tracks. When I press a cue button for a cue that's not already set I do NOT want my setup to (accidentally) set a cuepoint there. I want to set cues only in conjunction with another ("Shift") button to be sure I don't mess things up. The same applies to already existing cues: Hitting <Shift> together with an existing cuepoint deletes the cuepoint. Takes some time and effort to perfectly midimap but once done it's the perfect mechanism for me.
I did a few livestreams with the controller but I never felt comfortable with it. Maybe because it's too shiny and 'perfect', maybe because it absolutely breaks with my goal for maximum portability. I don't know, it's just not fun with it.
Somewhere in between I started building another controller myself. Targets were: More buttons, touch-sensitive jogwheels and a footprint not much bigger than a 13″ Macbook. It has to fit into a backpack. Maybe it could look like this: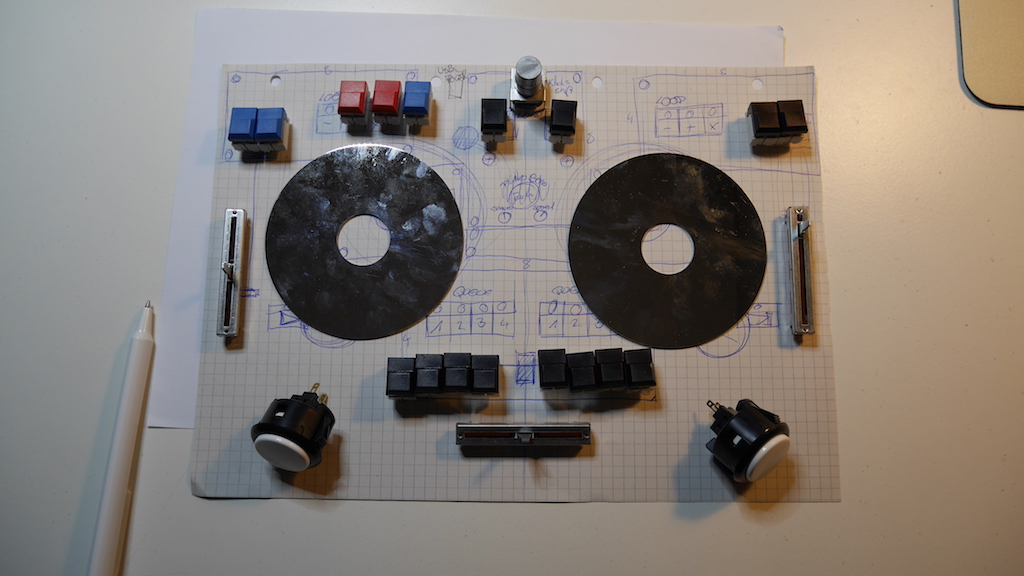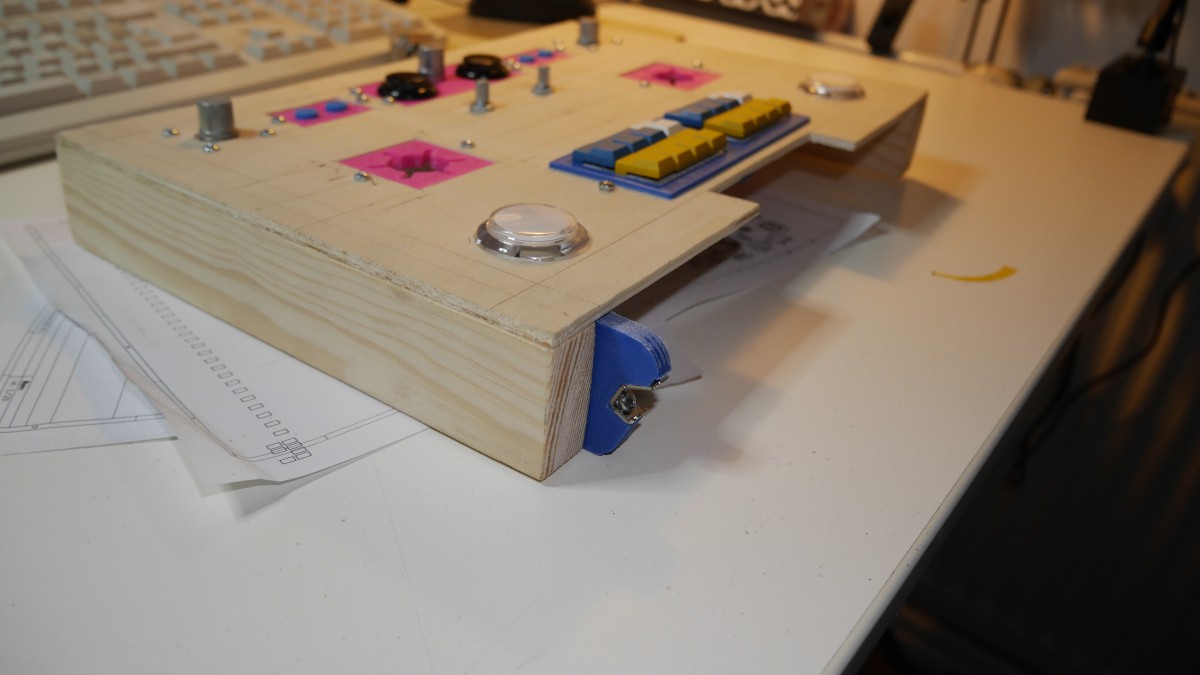 Awesome, isn't it? There is an unfinished four-part build log. Part 1, part 2, part 3, part 4. However, with life going on (like a mentally shattering year 2018, a near complete redesign of my social life, a worldwide pandemic, … you name it …) things haven't progressed the way they could have. Meanwhile the market for DJ controllers evolved and there seems to be the perfect candidate for the next round of heavy midi mapping and such: Reloop buddy. Just fell of the delivery truck. I'm not sure what to expect from it but overall specs look promising – and due to it not being that shiny posterboy there is absolutely NO hesitation to rip it apart and add some new buttons etc.) I am developing a new Midi mapping right now. Looks basically promising (besides a 14bit Tempofader which seems to bring Traktor to its knees but I'LL take care of this).